Founded by John Boyle in 1989, the business has grown to over 340 shops in Ireland and the UK, and offers telephone, mobile and online betting and gaming services in Ireland, the UK and a range of other international markets.
Key milestones in the growth of the company include the purchase of 33 William Hill Bookmakers in January 2020 and the acquisition of 18 shops from Bruce Betting a year earlier, which made BoyleSports Ireland's largest independent bookmaker.
BoyleSports HQ in the Republic of Ireland is located on the outskirts of Dundalk which straddles the border with Northern Ireland. The company currently employs over 2,500 employees throughout Ireland and the UK. BoyleSports is regulated for betting and gaming activities in Ireland, the UK and Gibraltar. A Marketing Operations centre was opened in 2015, based in Ocean Village, Gibraltar, employing over 20 staff.
BoyleSports has always set itself apart by offering a superior customer experience and better value than any other bookmaker.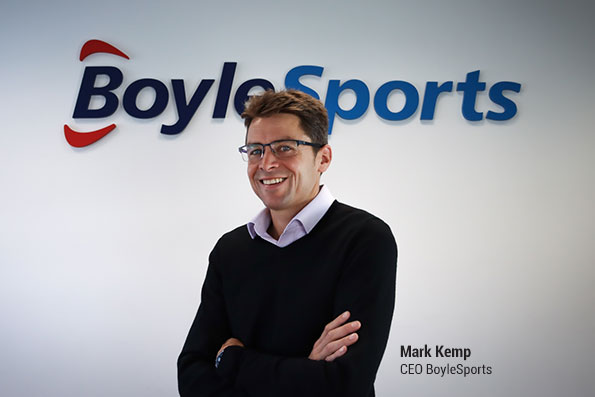 Walk into any BoyleSports shop and instantly see and experience the difference. Our friendly staff are knowledgeable for experienced punters and welcoming to new and recreational bettors.
Each employee is trained to the strictest standards and with the highest demands to ensure that our customers receive the best experience possible. In an internet world, our focus on customer experience means that we invest heavily in the mobile and web experience, which provides our customers with a faster and easier user experience.
Today, BoyleSports offers a wide range of betting opportunities ranging from horse racing, greyhounds, football and tennis to golf, rugby, NFL, cricket, basketball and lottery. Our gaming products include virtual horse and greyhound racing, roulette, blackjack, poker, bingo and a wide range of casino and live casino experiences.
Live In-Play betting from BoyleSports exceeds that of many other bookmakers with tens of thousands of real-time betting opportunities every day. Thanks to the advent of mobile technologies, you can now bet with BoyleSports anywhere and anytime with our 5-star rated mobile apps.
The unique BoyleXtra loyalty rewards programme means that every bet counts towards exclusive rewards and experiences, regardless of whether you bet in-store, online, on mobile or over the phone.
This Is Betting.